What to see and do in the area..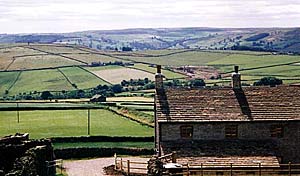 We have excellent walking from the door and the Pennine way can be joined in Lothersdale, where Charlotte Bronte came to work as a governess at Stone Gappe Hall. The small village mill is no longer in use but still houses the largest water wheel in existence on mainland Britain. Raygill Fisheries is also situated in Lothersdale.

We are ideally situated for visiting the local area and there are many activities if the weather is not good.
Shooting, golf, riding, fishing and swimming, bowling and cinema are activities available within just a few miles. Aireville Park in Skipton has facilities for golf and tennis with a new swimming pool and fitness centre, sauna and steam room.
Within easy reach you will find many interesting towns and attractions, including:

Skipton, Haworth, York, Harrogate, Ilkley, Ripon
Bronte country visible from the front door
The Lake District and west coast
Heartbeat and Emmerdale country 'Calendar Girls' filming locations
The Three Peaks
Bolton Abbey, Fountains Abbey
Saltaire Village (now a world heritage site and home of the David Hockney collection)
National Museum of Film and Photography
Royal Armouries and Thackray Medical Museum, Leeds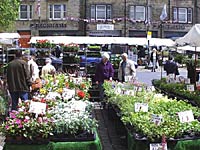 1 – Skipton
Skipton is a country market town, up in the Pennines, at the southern base of the Yorkshire Dales. It's a small, friendly town with a population of around 16,000. It has history, a castle, cobbled streets, ducks and canal boats. It's a pretty town to walk around, and has many visitors.
Skipton 'The Gateway to the Dales' was probably originally just a sheep farm, back before the Norman Conquest. In Airedale, the settlement commanded the Craven Gap, the best passage through the Pennines, and so grew in importance to become the main market town of Craven, and a major trading post for livestock.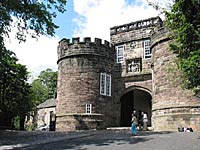 2 – Skipton Castle
Over 900 years old, Skipton Castle is one of the most complete and well preserved medieval castles in England. The castle is fully roofed and has a beautiful early Tudor courtyard inside. Conduit Court in the heart of the castle holds a yew tree planted 1659. Open to the public daily.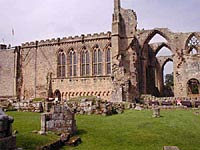 3 – The Bolton Abbey Estate, 5 miles away from Skipton.
The Bolton Abbey Estate Fishery has about 5 miles of Trout and Grayling fishing along the river Wharfe. Anglers must hold an Environmental Agency rod licence and the appropriate Estate licence. Tickets must be obtained before fishing. For tickets or further information contact the Estate Office. Fishing Ticket Prices: Day Ticket £17.00, Day Ticket (Junior) £8.00.
Bolton Abbey Estate has over 80 miles of footpaths through some spectacular scenery, and includes medieval ruins. The estate covers 30,000 acres. It's still a working Estate and still belongs to the Duke and Duchess of Devonshire, but is open to the public (free, although you have to pay to park).
The ruins of both the 12th century Bolton Priory (Bolton Abbey is a much more recent name) and 15th century Barden Tower are both within the estate.
Strid Wood, nature trails.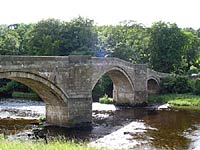 4 – The Dales
Skipton is the gateway to the Dales. Designated a National Park in 1954 because of its range of wildlife and their habitats, beautiful scenery and local history, The Yorkshire Dales is a rugged upland area of staggering beauty.
The Yorkshire Dales National Park covers almost 1800 square kilometres and has a total population of about 20,000 residents. Over 8 million visitors a year come to see the wonderful landscape, wildlife and village life of the Dales.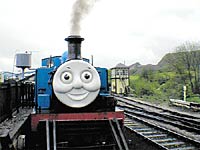 5 – Embsay and Bolton Abbey Steam Railway
Two miles away from Skipton. A volunteer-run steam railway. Trains run from Embsay station every Sunday, and up to seven days per week in the summer. Special events. Thomas the tank engine makes regular appearances here. The line connects you to Bolton Abbey Estate, the station there is called Halton East.
Embsay Station was built in 1888. From there the track connects to the new award winning Bolton Abbey station. The station is a reconstruction of the original with gift shop, refreshment room, waiting room, toilets and disabled facilities. Parking facilities for cars and coaches. The line takes in Holywell Halt, a recreated country halt with picnic area and a children's trail. Embsay Station, the headquarters of the Embsay and Bolton Abbey Steam Railway, has a café, gift and book shop, extensive collection of tank engines, and a picnic area.
On Saturday evenings through summer, excursions run with Victorian carriages by Stately Trains. Strawberries and cream served.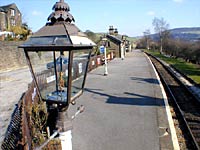 6 – Keighley and Worth Valley Railway
Keighley & Worth Valley Railway is a restored 5-mile branch line which joins the national railway network at Keighley and runs up the Worth Valley to Haworth. Steam train services operate every weekend throughout the year and daily in summer. There are six restored gas-lit stations, a fleet of steam locomotives and historic carriages, a Museum of Rail Travel at Ingrow, buffets at Keighley and Oxenhope and a CAMRA real ale bar on many trains. There are picnic areas at Keighley, Haworth and Oxenhope. The KWVR station at Oakworth was the location for the 1970 film 'The Railway Children'.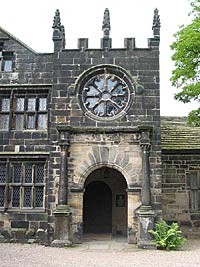 7 – East Riddlesden Hall
10 miles away from Skipton, in Riddlesden. 1 mile NE of Keighley town centre on the B6265.
Owned and run by the National Trust, East Riddlesden Hall is a nicely preserved 17th century merchant's house, set in its own grounds complete with duck pond, gardens, orchard and restored period tithe barn. The Hall is supposedly haunted. The interior is restored and full of period furniture, kitchens, etc. They have regular costumed tours, different events through the year. Halloween, Christmas, etc. Check for details.
Facilities:
Free car parking. Good wheelchair access. Shop. Tearoom. Childrens play area. Function hire available. Group visits. Educational facilities.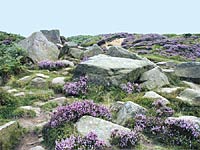 8 – Ilkley
9 miles away from Skipton. Once a Roman fort town, The town was a fashionable spa resort in Victorian times. The famous Ilkley Moor, and the Cow and Calf rocks...Now there are lots of interesting shops, the famous Betty's Tea Room on the Grove. Sunday is a good time to catch the pianist but Betty's also hosts the occasional special musical event. Service is good, the ambience genteel... but not a very good view from the windows over a car park. Be prepared to queue on Saturdays.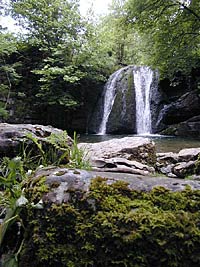 9 – Malham
11 miles from Skipton, Malham is quite simply a place of outstanding natural beauty, with a tiny dales village nestling under the Great natural feature of Malham Cove. Very popular walking country
Malham Cove
Standing some 270 feet high and 1000 feet wide, Malham Cove is a sweeping amphitheatre crag of limestone. The limestone pavement above the Cove is a massive, fascinating pattern of naturally eroded limestone, with deep cracks between the steps, called 'clints' and 'grykes'.
Janet's Foss
Named after the local Faery Queen, Janet's Foss is a pretty waterfall. Janet's Cave nearby too.
Gordale Scar
Just around the corner from Malham Cove, Gordale Scar is an impressive natural gorge complete with overhanging sides and waterfall. It's thought that originally the gorge was a cavern, but at some point the roof fell in. There's a great campsite in the field at the entrance to Gordale Scar.
Malham Tarn
Above Malham Cove sits the Tarn, a 150 acre lake. Granted to the monks of Fountains Abbey in the 12th century, along with fishing rights. The tarn nowadays is protected as a nature reserve, and has a healthy population of water birds. There's a birdwatching hide.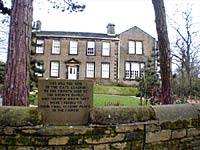 10 – Haworth & the Bronte Parsonage Museum
14 miles from Skipton
Steeped in history, and booming with sightseers during the tourist season, Haworth is perhaps best known for its connections with the Bronte family. Beautifully preserved, the original Haworth parsonage is now an excellent museum for Brontë fans. Nearby is Top Withins Farm, the inspiration for Wuthering Heights.
The outstanding Brontë Society website, at http://www.bronte.info/ has tons of information on the parsonage, the museum, and the Brontës in general.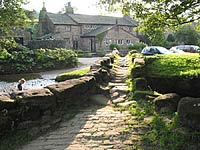 11 – Wycoller
15 miles from Skipton
Wycoller is a small, pretty hamlet, just over the border in Lancashire. In the 16th century Wycoller would have been a busy farming and weaving community, but the coming of the power looms led to the village's decline, and a hundred years ago Wycoller was all but abandoned. Over the years the stone from twenty or thirty buildings was taken and used elsewhere, and nowadays there are just a handful of well tended buildings, and the ruins.
The ruins of Wycoller Hall dominate the village, and are believed to be the inspiration for Ferndean Manor in Charlotte Bronte's novel Jane Eyre. The Brontës lived in nearby Haworth, and would almost certainly have visited Wycoller at some time. The Hall was built for the Hartley family towards the end of the 16th century.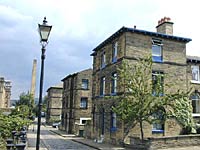 12 – Saltaire
15 miles from Skipton
Commissioned by Victorian wool baron Sir Titus Salt, Saltaire was a complete 'model' industrial village for his workers. The Mill now holds the 1853 gallery, with the world's largest collection of David Hockney paintings. There are also interesting shops, a good restaurant, and an excellent supply of art books and materials within the mill. Well worth a visit and easy access by train from Cononley.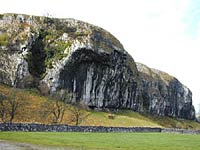 13 – Kilnsey Crag
12 miles away from Skipton.
This very impressive crag leans right out above the road.
Kilnsey Park, close by has a Trout Farm. Fly fishing, Pony Trekking and a childrens adventure playground area...all in the heart of the Yorkshire Dales.
The Park has a Squirrel and Nature Trail, freshwater aquarium, child and adult fishing, and a delicatessen. There is also a restaurant; their speciality is "Battered Trout".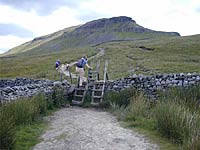 14 – Pen-y-ghent
22 miles away from Skipton, near Horton in Ribblesdale.
Penyghent is the nearest of the "three peaks" of the Yorkshire Dales, the other two being Ingleborough and Whernside. Keen walkers climb all three in the same day, in the 'Three Peaks Walk', a classic Yorkshire walk. Set in the heart of the scenery of the Yorkshire Dales National Park it's 23 miles round the full circuit and for those wanting to collect the badge you have exactly 12 hours to complete the whole walk. Starting from Horton in Ribblesdale the walk covers all three peaks, the hills of Penyghent, Whernside and Ingleborough.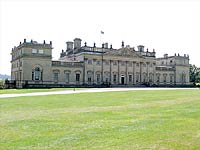 15 – Harewood
39 miles away from Skipton.
Harewood is a fabulous day out for all the family and consists of :-
· Harewood House
· Terrace Gallery
· Below Stairs
· Gardens
· Bird Garden
· Woodland Garden and Lakeside Walk
· Adventure Playgrounds
· Cafe and Gift shop
There are plenty of things to do and see, with excellent facilities, and amenities. You can take the shuttle service to and from the furthest points,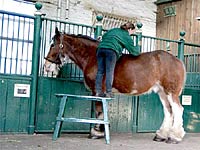 16 – Bradford Industrial Museum
19 miles away from Skipton.
The Bradford Industrial Museum is an amazing working showcase.
It creatively illustrates how people in the area lived and worked in the recent industrial past.
This is a great day out for all the family who should find it both stimulating and educational...it consists of :-
· Outside Grounds
· Entrance Gallery
· Shop & Cafe
· Motive Power Gallery
· Lower Gallery
· Tram & Trolley Shed
· Transport Gallery
· Wool Industry
· Worsted Textile Gallery
· Moorside House
There are plenty of things to do and see, with excellent facilities and amenities. You can take a ride with the team of Horses at Work, or wander round the extensive grounds.
ADMISSION IS FREE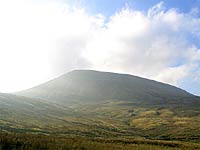 17 – Pendle Hill
18 miles away from Skipton, in Lancashire.
Only a short distance away, and famous for the Pendle witch trials of the 17th century, when 19 local women were hung for, well, being witches. Moody landscape. Good walking country, even if it is in Lancashire...
This majestic, but brooding hill lies east of Clitheroe, set amongst a number of villages. It is a very romantic hill, spiritually associated with George Fox's vision in 1652, the 17th century Lancashire Witches, and the location both for the book "Mist over Pendle" and the film "Whistle Down the Wind".
The hill stands at 1827 ft and varies in width from one to three miles. The top offers breathtaking views across the Forest of Bowland, the Yorkshire Dales and on clear days, the Lake District.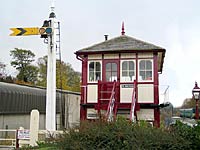 18 – Settle to Carlisle Railway
On the 1st of May 1876 the first passenger train steamed along the Settle-Carlisle Railway. As it celebrates the 128th Anniversary, the route is still considered to be one of England's most scenic railway journeys.For further pages of information, and images of each individual station; click on the link below, or the map on the left.· Carlisle · Armathwaite · Lazonby · Langwathby · Appleby · Kirkby Stephen · Garsdale Head · Dent · Ribblehead & Museum · Horton in Ribblesdale · Settle · Viaducts & Miscellaneous During the 72 miles between Settle and Carlisle there are 20 major viaducts and 14 tunnels, all built by thousands of 'navvies'.The journey from Settle to Carlisle passes through lowland valleys and climbs to the dramatic landscape of the Pennines.Stations en-route are Horton, Ribblehead, Dent, Garsdale, Kirkby Stephen, Appleby-in-Westmorland, Langwathby, Lazonby, and Armathwaite.Ribblehead Viaduct is the most famous and well photographed point along the line. Standing 105 feet above 'Batty Moss', it has 24 arches, and has been completely renovated. Ais Gill summit is the highest point at 1169 feet above sea level.For more information on this spectacular railway visitwww.settle-carlisle.co.ukGuided Walks take place from selected stations.Single, Return and 3 Day Freedom Tickets are available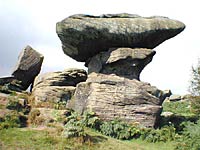 19 – Brimham Rocks
25 miles away from Skipton, past Pateley Bridge.
Large area of strange rock formations, huge millstone grit boulders that have naturally eroded into freaky shapes. Site owned and run by the National Trust...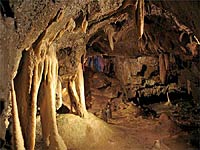 20 – Stump Cross Caverns
13 miles away from Skipton.
On the B6265 between Grassington and Pateley Bridge. Discovered in 1858. These Natural Caves are open to the public.
Stump Cross Caverns near Grassington in Yorkshire is one of the countries leading show caves, and one of the few that actually encourages cavers to explore and extend it. The cave was discovered accidentally by two lead miners working near Stubbe or Stump Cross in 1858, William and Mark Newbold.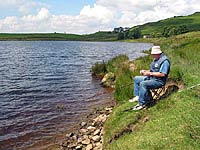 Our nearest place for fishing is Raygill Fisheries in Lothersdale, a lovely place for trout, pike and coarse fishing. The fisheries offer fishing on four man made lakes. Tuition is available in fly and coarse fishing. Some areas of the coarse lake have reasonable access for disabled anglers. The lakes are on the site of old quarry workings which show some unique geological formations and have an interesting prehistoric background.
The Bolton Abbey Estate Fishery has about 5 miles of Trout and Grayling fishing along the river Wharfe. Anglers must hold an Environmental Agency rod licence and the appropriate Estate licence. Tickets must be obtained before fishing. For tickets or further information contact the Estate Office. Fishing Ticket Prices: Day Ticket £17.00, Day Ticket (Junior) £8.00.

Kilnsey is a good place for both riding and fishing
· Kilnsey Trout Farm
· Parking is Free.
· Visiting the Park, Restaurant, and Farm Shop are Free.
· Guide Dogs only please.
· Clear Water Reserve is £1 per head.
· Fly Fishing costs £16 per day (2 fish limit).
· Fly Fishing £12 per day (Catch and Release).
· Childrens Fishing costs £3:85 for a child's rod and £1:98 per fish caught.
· Open 9 a.m. till 5:30 p.m. Every day of the year.
· Kilnsey is on the B6160 Grassington Road, about 12 miles north of Skipton.
^top

photos by The Craven Image and Skipton web