Accommodation
Great care has been taken to retain Street Head's original charm, whilst providing all the facilities for home from home comforts. Central heating is adjustable and there is double glazing throughout, with the addition of a wood burner in the large sitting room.

Stone fireplaces have been restored, beams exposed, and stone flagged floors preserved. The house comfortably sleeps ten. A cot and high chair are available on request, with a stair gate and large fireguard. Well behaved dogs are welcome by arrangement. There is safe storage for bicycles in the adjoining barn and grazing for horses is available.

Doorways are wide and suitable for the disabled. The downstairs bedroom, shower room and smaller sitting room form an ideal 'suite' for those who cannot manage stairs or wish to retire early. It is also an ideal quiet nursery area.

The accommodation comprises: Five bedrooms; one twin downstairs, with adjacent shower room. On the first floor, one double with en suite shower room, a further double, two twin bedrooms and a house bathroom with shower over bath. All bathrooms have shaver points and a hairdryer is provided.

On the ground floor: Entrance hall, large sitting room with log burner, colour TV and video, large comfy sofas and armchairs.
Utility room with automatic washing machine, tumble dryer, ironing and drying facilities. The limed oak kitchen is spacious and well equipped, with electric oven and hob, microwave, fridge and freezer, larder fridge, dishwasher, coffee maker etc. The kitchen extends onto a large dining area with traditional pine table and chairs.

There is also a second, smaller sitting room with colour TV, books, toys and games, which opens onto the courtyard. There are mullioned windows and many rooms have window seats for taking advantage of the wonderful open views across the Aire valley.




The kitchen and dining room
The open plan of the kitchen and dining room make it very easy to remain sociable whilst cooking.
There is an electric oven and hob with a microwave oven, dishwasher, fridge and freezer and a separate larder fridge, electric kettle, toaster, electric food mixer, cafetiere and ample saucepans, casserole dishes etc.

"We loved the kitchen/diner. Lots of room. A lovely place to chat and relax (and cook!) in."
Mr and Mrs S (Luton)

"The house is beautiful and very well equipped. Your lovely kitchen inspired me to cook and bake! "
L. P. (Ilford)

"Everything was wonderful. We particularly liked the big kitchen area."
Mrs P. H. (Norfolk)

The large pine table, around which ten can comfortably be seated, was made especially for Street Head.




The large sitting room
"Exceptionally impressive standard of renovation with good quality and (unusually!) stylish and new furnishings and fittings."
The G Family (Cambs.)

The large sitting room is heated by oil fired central heating but there is also a wood burning stove for those who like to relax in front of a real fire. Logs are provided.

There are large comfortable sofas, firmer armchairs, a rocking chair, and window seat beneath the mullioned windows. The view is wonderful!
Videos are provided for the colour TV and video recorder and there is also a CD player.

Oak beams and stone flagged floors have been preserved. A large Indian rug adds comfort to the room.


The utility room
The utility room houses the boiler for the oil fired central heating. It has a sink, washing machine, tumble dryer, iron, ironing board, clothes dryer etc. and is a good room for drying wet clothes, walking boots etc.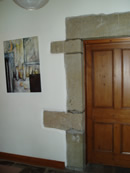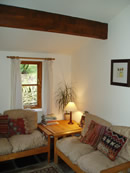 The small sitting room
The small sitting room opens onto a sunny area, which is ideal for barbecues, to the rear of the house. There are sofas and a colour TV with books and games. It is a very useful room, being suitable for young and old alike.
Together with the downstairs twin bedroom and the shower room, it can form a quiet 'suite' suitable for those who wish to retire early or have mobility problems, and is also ideal as a nursery room.




The downstairs twin bedroom
The downstairs twin bedroom is ideal for visitors who have difficulty climbing stairs and doorways in the house are sufficiently wide to accommodate wheel chairs. This is a popular room with grandparents who prefer to be undisturbed by younger family members, or parents with a small baby. A cot is provided.

This room was originally the old kitchen but, together with the adjacent shower room and small sitting room, was completely rebuilt in 1999. It has exposed beams and windows on two walls. A pine school cupboard stands in an alcove which was once the doorway into the old 'living room'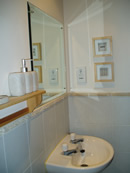 The downstairs shower room
The downstairs shower room is adjacent to the downstairs twin bedroom. Like the other bathrooms, it has a shaver point, shower, toilet, washbasin, radiator and towel rail.


The en-suite bedroom
"We have had a fantastic week in this wonderful accommodation. A joy to pull the curtains in the morning!"
Mr and Mrs B. (Bucks)



The en-suite bedroom has exposed beams and a large mullioned window with a window seat, ideal for admiring the breathtaking view!
It has a well sprung double bed, table lamps, and traditional pine furniture with plenty of storage space. The shower room has a shower, sink and toilet with good lighting and shaver point.




The long bedroom
The long bedroom has twin beds, table lamps, pine furniture and mullioned windows with lovely open views across open farmland. Original beams have been exposed. We still have some of the old newspaper dating back to 1894 which lined the original wall. Apparently, in those days "Gents splendid black or blue serge suits" could be purchased for 21 shillings (or £1.05) from 'Woodhouse, The Great Clothier', Albion Street, Leeds.




The double bedroom
The double bedroom has large, old mullioned windows with a window seat and open views across open farmland. A damaged old iron fireplace has been removed to reveal the original stone fireplace, which has been renovated and is an attractive feature of the room.




A pine cupboard stands in an alcove where an old weaving loom once stood. A groove had been worn in the wall by the pedal of the loom and an old spindle was found underneath the floorboards. This was 'buried' again before new floorboards replaced the old.




The twin bedroom
The twin bedroom is one of the oldest parts of the house and looks out onto the croft to the rear of the farmhouse. This is where we often keep young lambs and calves – probably why it is a favourite with children! It is the smallest bedroom but still has plenty of room for twin beds, a chest of drawers and wardrobe with additional drawer storage.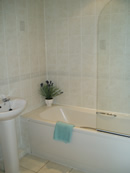 Bathroom
The house bathroom has toilet, washbasin, shaver point, and bath with an overhead shower. There is also a baby bath, which is kept in the utility room.


View from rear
Street Head stands high above the Aire valley and the villages of Cononley, Lothersdale and Carleton. Open views extend many miles and the landscape is just as impressive in the winter months as it is during the warmer weather. The old mine shafts of the disused Cononley lead mines can be seen in the distance here.